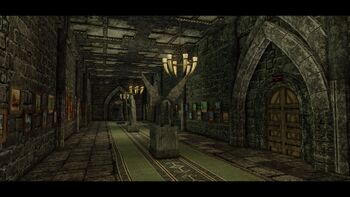 The upper part of the Hall of Heroes contains a circle of displays. There is a door to the exterior of the Museum, connecting to the Safehouse. There is also a hallway, where 46 Paintings can be placed. After the Immersive College of Winterhold questline has been completed, three statues from Old Winterhold appear in this hall. This Hall has a door to the third floor of the Library, the Dragonborn Hall, the Gallery of Natural Science and the Planetarium.
Displays
Jewelry Cabinet
This cabinet contains jewelry from Skyrim, Legacy of the Dragonborn SSE and a few mods. See Jewelry Display.
Jewelry Cabinet Amulet of Skyrim
This cabinet contain all jewelry added by Amulets of Skyrim SSE. See Amulets of Skyrim Display.
Community content is available under
CC-BY-SA
unless otherwise noted.