SSE Version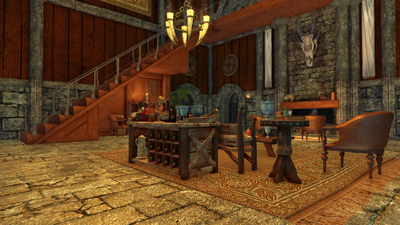 The Museum comes with a Safehouse for you to live in whilst adding to your collection. The Safehouse is located at the top of the stairs running parallel to the stairs leading to the Museum main entrance.
The suite contains a large Living Room, access to a Patio, a Crafting Room, a Kitchen, a Master Bedroom with a Hidden Treasury, a Bathing Room, Children's Bedroom and a Follower's Room.
You receive the key to the Safehouse either immediately when starting a game through Alternate start - Live Another Life with the Relic Hunter Start or after reaching a display count of 50. When you do not start with Live Another Life, a messenger will deliver the key to you together with a note from Auryen.
After receiving the key through either means, you can buy four upgrades for the Safehouse from Bits and Pieces in Solitude:
Adopting 6 children and moving them to the Safehouse requires the Hearthfire Multiple Adoptions mod, and having used the "Bless Home" ability the mod gives you, while in the Safehouse. If this mod is not installed, you will not be able to move your family to the Safehouse.
Additional Displays
The Safehouse features additional displays for certain items found in the world, if the supported mod is installed: