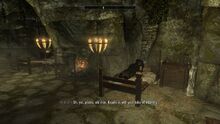 This quest is only available if you join the Dark Brotherhood. Once you get to the Sanctuary Gregoir will be sleeping in a bed. Talk to him to start the quest.
Locate the Essence of the Executed.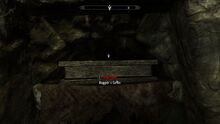 In order to get the required item you will need to pay Roggvir's corpse a visit. This can easily be done during the Skyrim quest: Return to grace.
Locate the Hanged Man's Hand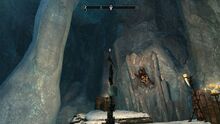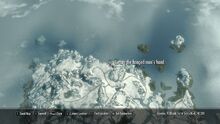 Glacial Cave on the north shore of Solstheim, the hand can be found on a makeshift pedestal.
Once both these items are acuired the quest will progress:
Return to Greigor.
Return to the Dark brotherhood sanctuary and talk to Greigor.
Create the Hand of Glory
Use the cooking pot to melt the fat to a candle, you might need to move your focus a bit lower then the use cooking pot in order for the "create hand of glory" prompt to show.
Show Greigor the Hand of Glory.
Talk once again to Greigor.
Kill Greigor.
Kill him and the quest will finish, the Hand of Glory is now yours.
-----
DBM_HANDOFGLORYQUEST



5- initialization stage- go find the essence of roggvir and the hanged man's hand

10- return to Griegor with the relics

15- Make the hand of glory

20- Show the hand of Glory to Griegor

25- Kill Greigor

30- Quest complete

50- Quest failed (if dark brotherhood sanctum is destroyed before the quest is done)

Community content is available under
CC-BY-SA
unless otherwise noted.