watch 03:19
Wiki Targeted (Games)
Play Sound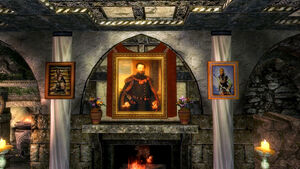 The Reception Hall is just on the right as you walk down the entrance corridor from the Entrance.
6 paintings can be placed here and additionally one special painting above the fireplace during Night at the Museum. Three quest displays will show your achievements, they activate upon completion of their respective quests. On the far side a set of busts are available for special helmets found throughout the game.
Reception Hall
Blades Display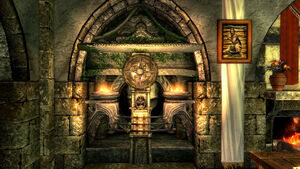 Activates after recruiting and rebuilding the Blades and completing your first dragon killing quest for Esbern. Works with the Paarthurnax Dilemma mod.
Excavation Display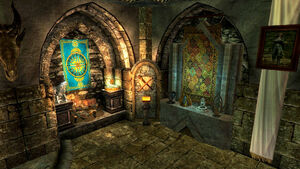 Activates after founding the Explorer's Guild. The left diorama on a pedestal activates after Excavation of Windcaller Pass, while the right diorama on a pedestal activates after the Excavation of the Ruins of Rkund. The right alcove activates after Trial of Trinimac.
Shattered Legacy Display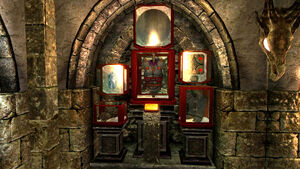 Activates after the completion of Shattered Legacy. A set of the original items that were lost during the quest will show up in the display.
In Commemoration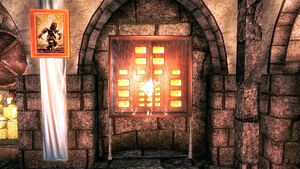 Activates after you talked to Auryen after the Trial of Trinimac quest. It can be activated to watch the credit scene again.
Busts
Staff Barracks
The Staff Barracks are accessible from the far side of the Reception Hall. The Staff Barracks features three beds, one usuable by the player, some cooking stations and a fireplace. A large hatch leads to the Wine Cellar.
SPOILER list - How to get all items
Community content is available under
CC-BY-SA
unless otherwise noted.