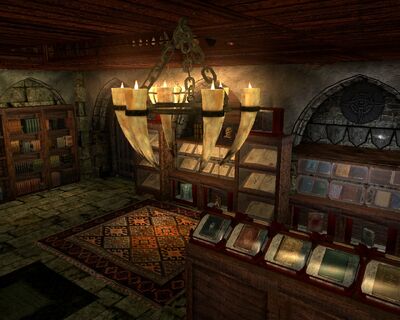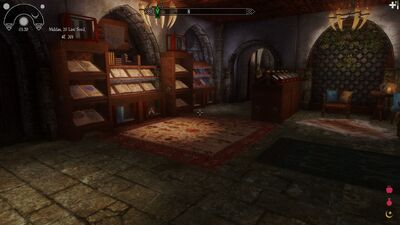 The 1st floor of the library consists mostly of bookshelves and displays for common books, but there are also a Jewelry Display and a spot for the Dragonstone, as well as a door leading to the Curator's Office.
Immediately to the left when entering the area with the stone staircase, there is a hatch leading to the Books Stack area. In the staircase area you will also find doors leading to the Dragonborn Hall on both the first and second floor. The staircase goes up to the second and third floor of the Library.
Another stairwell leads past the Jewelry Display up to both the hidden Safehouse entry and the entry to the Armory. To the left of the door to the Armory is a quest display for the Bard's College that activates after collecting all three instruments.
Most of the books you can display on this floor of the library are easily obtainable throughout Skyrim, found randomly in loot or lying in the open, and most are also sold by general goods vendors.
Below is the list of books that can be displayed on this level of the library, listed from left to right, top to bottom.

Bookshelf Group 1
Bookshelf Group 2
Bookcase Displays
3rd Bookcase Group
New Treasure Hunt Displays
The new treasure maps added by New Treasure Hunt can be displayed along the library stairway to the Dragonborn Hall and the upper floors of the library. The displays are listed from the bottom to the top, as that is the order of the treasure maps.

SPOILER list - How to get all items
Community content is available under
CC-BY-SA
unless otherwise noted.