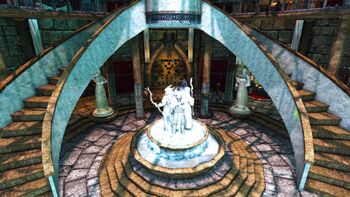 The Hall of Heroes is a large room immediately in front of you when you enter the museum. It contains displays for many different items. It has two separate floors. The lower gallery is listed on this page, see Upper Gallery for the displays on the second floor. To the left of the main Hall is the Culture and Arts Exhibit. This hallway has a door to the East Exhibit Halls, the Library, as well as the Curator's Office. There's also a stairway leading to the Upper Gallery and down to the Armory. To the right of the main hall are the Reception Hall and Staff Barracks, which provide access to the Museum Storeroom and the Safehouse.
Entrance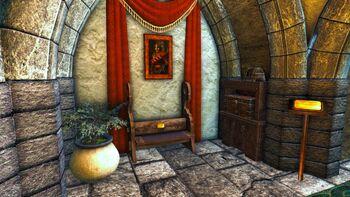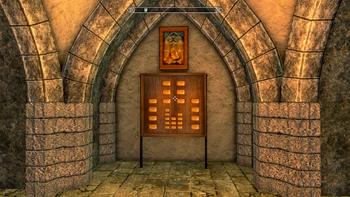 The entrance to the museum directly connects to the main Dragonborn Hall. On the left there is a bench, above that is a spot for a Painting. There is a cabinet with a chest for safe storage. On top of the cabinet is the Donations Box, as well as the Curator's Guide. On the wall is a plaque that shows the current museum display count.
On the right is another spot for a Painting. Below this is the "In Commemoration" display. This activates after you talked to Auryen after the Trial of Trinimac quest. It can be activated to watch the credit scene again.
Statues
On top of the fountain are three statues.
The Combat statue is unlocked by having three combat skills at level 100. (Archery, Block, Heavy Armor, One-Handed, Two-Handed.
The Stealth statue is unlocked by having three stealth skills at level 100. (Light Armor, Lockpicking, Pickpocket, Sneak, Speech)
The Magic staute is unlocked by having three magic skills at level 100. (Alteration, Conjuration, Destruction, Illusion, Restoration)
Behind the fountain is a statue holding a lantern on the left, this is called "Truth". On the right is a statue holding a book, this is called "Wisdom".
Main Floor - Left Side
Main Floor - Dragon Priest Masks and Claws Display
Main Floor - Right Side
Wintersun Display
Culture and Arts Section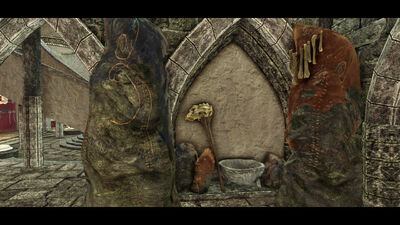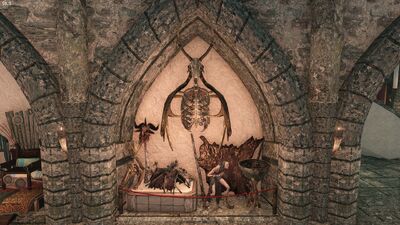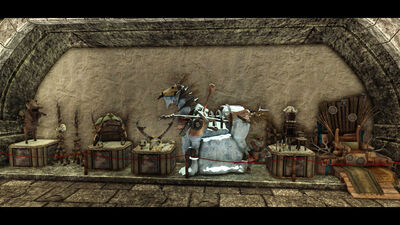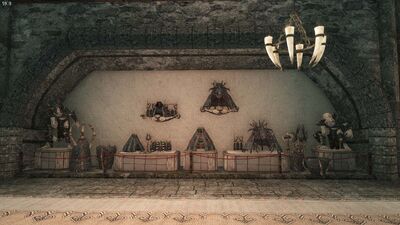 Giants
Giants of Sleeping Tree Camp
Giants of Cradlecrush Rock
Giants of Talking Stone Camp
Giants of Blizzard Rest
Giants of Stonehill Bluff
Giants of Guldun Rock
Giants of Bleakwind Basin
Forsworn
Forsworn of Hag Rock Redoubt
Forsworn of Lost Valley Redoubt
Forsworn of Karthspire Camp
The Witches of Glenmoril Coven
Rieklings
Rieklings of Moesring Pass
Rieklings of Thirsk Mead Hall
Rieklings of Northern Solstheim
Rieklings of Frossel
Rieklings of Karstaag Ruins
Rieklings of Bristleback Cave
Rieklings of Glacial Cave
Rieklings of Benkongerike
Falmer
Falmer of Frostflow Lighthouse
Falmer of Sightless Pit
Falmer of Chillwind Depths
Falmer of Duskglow Crevice
Falmer of Gloomreach
Falmer of Lost Echo Cave
Falmer of Darkwater Cavern
Falmer of Stillborn Cave
Falmer of Liar's Retreat
Falmer of Shimmermist Cave
Community content is available under
CC-BY-SA
unless otherwise noted.