Small quest to create Hrormir's Icestaff starts during 'The Excavation of Windcaller Pass'.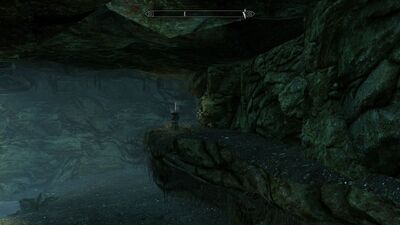 Walkthrough
During the excavation of Windcaller Pass, six shards can be found. After picking up the first one, this quest will start.
Show the Icy Shard to Auryen.
Find all 6 Icy Shards.
In order to find all six, you'll need to progress further with the excavation.
The first two shards are in the first part of north Windcaller Pass.
The next two shards are found after returning, when the blockage is cleared. For the third shard, the named troll Hurraka must be defeated and the key taken from its body.
The fourth shard is in south Windcaller Pass, You'll need to open the puzzle door. The shard is on the altar.
After the blockage in the South windcaller pass the fifth shard is located in an alcove if you hold right to the first large new room on your left.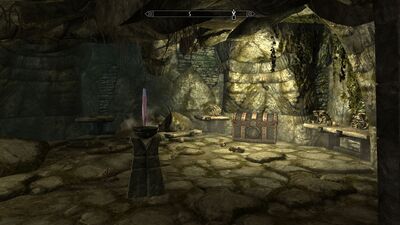 After the next Blockage that needs clearing the sixth shard is in a troll cave with two bedrolls. You'll pass through this room in order to advance the excavation.
Return to Auryen
Go back to Auryen with the 6 shards. He should be where the two dragons were.
Find the coldforge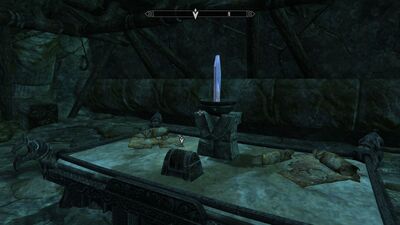 The coldforge is the stone structure overlooking the excavation's second camp. Activate the forge and take Hrormir's Icestaff.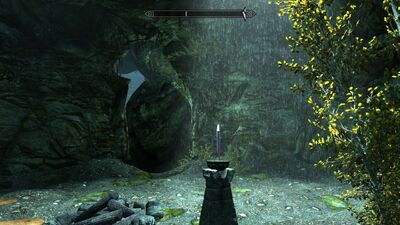 Quest Stages
Quest Name (Quest ID)
Stage
Journal Entry

---

DBM_HRORMIRSTAFFQUEST

5- found a shard, talk to Auryen (only functions during windcaller excavation)
10- Auryen told me about the staff, look for 5 more shards
20- I gathered all 6 shards, talk to Auryen (only functions during windcaller excavation)
30- look for cold forge (in windpass refuge)
40- Quest completed (does not supply or place staff, activator and 6 shards are required)


Objective :
Community content is available under
CC-BY-SA
unless otherwise noted.