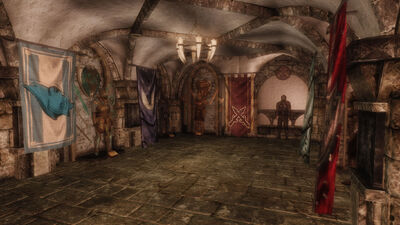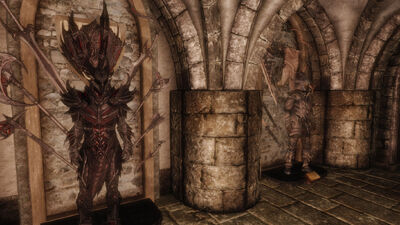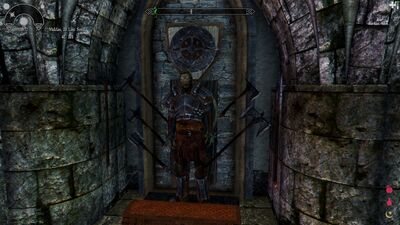 This is where you can display non-special armors and weapons that you come across in your travels or craft yourself. The main room holds displays for common armor and weapon pieces such as Iron and Steel. To display the weapons on the wall, place them in the chests in front of the mannequins.
There are also weapon and armor displays for each of the nine holds. Above each hold mannequin is a shield representing the hold. You are free to put any armor and weapons on the displays that you wish, but the intent is to clothe them in the relevant hold armor.
The armor you place on the mannequins in the room does not add to the total display count. Neither does the weapons placed on the hold weapon displays. Only the Immersive Armors and Heavy Armory displays and weapon displays on the walls raise the display count of the whole museum.
Iron
Weapons:
Iron Bow (Imperial Bow)
Iron Warhammer
Armor:
or
Immersive Weapons mod Iron Displays
?
?
Iron Wakizashi
Iron Halberd
Iron Hunter's Spear
Steel
Weapons:
Steel Shield
Steel Greatsword
Steel War Axe
Armor:
Steel Armor
Steel Cuffed Boots
or
Steel Shin Boots
Steel Helmet
Steel Nordic Gauntlets
or
Immersive Weapons mod Steel Displays
Nordic
Weapons:
Armor:
Elven
Weapons:
Armor:
or 
Immersive Weapons mod Elven Displays
Dwarven
Weapons:
Armor:
Orcish
Weapons:
Armor:
Glass
Weapons:
Armor:
Ebony
Weapons:
Armor:
Stalhrim
Weapons:
Armor:
or:
Daedric
Weapons:
Armor:
Dawnguard mannequin
(the one to the left when entering the main hall of the Armory)
Weapons displays by Dawnguard mannequin (Heavy Armory mod)
Tribunal Mask Display (Immersive Armors mod)
Tribunal Mask Bronze
Tribunal Mask Ebony
Tribunal Mask Silve
Weapons Displays (Immersive Weapons mod)
Community content is available under
CC-BY-SA
unless otherwise noted.