SSE Version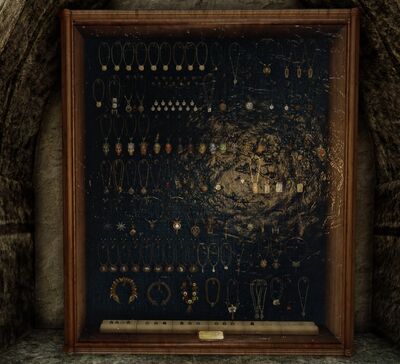 Additional jewelry displays for the mod Amulets of Skyrim SSE. Adds a Jewelry Display for amulets and rings on the Upper Gallery of the Hall of Heroes.
Notes:
The Hold amulets show both the Jarl and Thane amulets and will not accept the craftable Gold and Silver Amulets.
Rings take either right or left rings, either enchanted or non-enchanted.
Some spots take multiple displayable versions, but will only show one or two amulets, e.g. the Harbinger's Amulet and Amulet of Wuuthrad, both can be displayed but it only shows one of them.
In order to complete the display the Amulets of Skyrim Tweaks and Fixes by Oooiii mod is advised as it makes many otherwise impossible displays obtainable, f.ex. the Dragon Priest amulets and rings which normally only of the two is displayable can be obtained with this mod as an extra amulet and ring are added to their respective Dragon Priests to be displayed. More information on other items will be on their respective pages.
Amulets
Rings